Imagine a world where all documentation by caregivers is possible without paper.
No more need for long drives and in-person visits to drop off paperwork at the home office.  No more filing cabinets.  Completely paperless faxing.  This is Alora Home Health.  Alora digitizes the home health care documentation experience.
How does Alora do it?
With our optional Custom Documents feature, Alora can convert whatever forms you use into digital versions, finally making "100% paperless workflow" a reality.  Your staff can complete those forms, and even capture signatures, electronically.  In addition, Alora software comes with all the industry-standard documents built-in.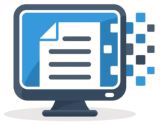 Aside from happier employees and considerable time savings, Alora's paperless workflow allows you to save a small fortune on paper, toner, and ink, while helping the environment along the way.
And chart reviews or survey preparation is a breeze – instead of digging through a filing cabinet, all documentation is instantly available digitally, at your fingertips.
Truly paperless workflow – it's yet another reason why Alora is not only one of the best-reviewed home health software products on the market today – but also one of the most affordable.
Why else do so many home health agencies trust Alora?