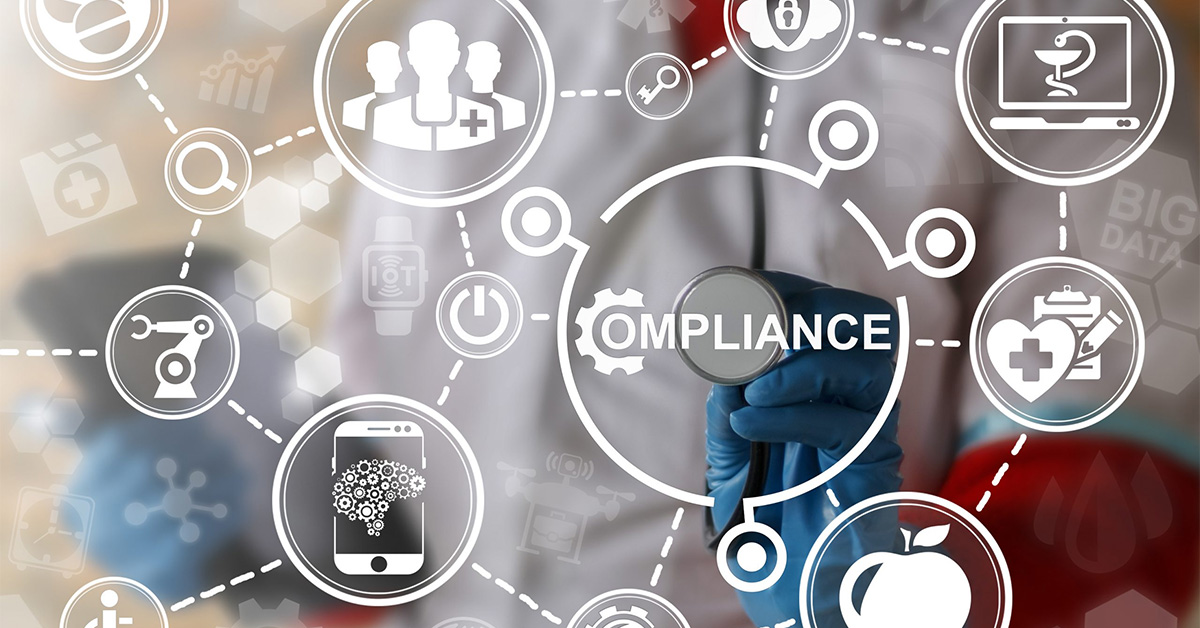 21 Jun

Home Health Agency HIPAA Compliance
Are your Home Health Operations HIPAA Compliant?
What are the most common HIPAA violations and how can you avoid them? Share this free HIPAA compliance checklist within your agency.
Home health agencies face unique challenges in protecting sensitive patient health information. Nurses and aides depend on mobile devices. And they often access medical records from unsecured locations like coffee shops or patient homes. Further, it's hard to track what employees are doing since they work alone in the field. These few reasons show why home health agencies must be vigilant about protecting their clients' security.
When we talk about "HIPAA," we refer to the Health Insurance Portability and Accountability Act (HIPAA) Privacy Rule. The Privacy Rule sets standards for healthcare providers who handle patient health information. This article will explain the most common home health HIPAA violations, how they're discovered and avoided, and how to make sure your operations are compliant. Plus, we're providing a free checklist to get you started.
Common HIPAA Violations in Home Health
How HIPAA violations are discovered
Avoiding HIPAA Violations in Home Health
How HHAs Can Ensure Operational HIPAA Compliance
Common HIPAA Violations in Home Health
Healthcare providers must secure protected health information. The Privacy Rule strikes a balance that permits important uses of information while protecting the privacy of people seeking healthcare. Non-compliance is often accidental. Home care workers may unintentionally or unknowingly violate a patient's privacy by sharing details about their care. Here are the most common HIPAA violations in home health.
Using unsecured networks to send or store health information. Home health workers must only access patient records through safe, properly encrypted networks.
Inadequately securing patient information. Agency staff who have their passwords posted for others to see or inappropriately discard patient paperwork violate HIPAA by giving record access to unauthorized individuals.
Accessing patient health information inappropriately. Home care workers should not use personal email accounts, private tablets or computers, or unsecured Wi-Fi networks. It is safer for agencies to provide password-protected secured devices for employees to use for agency business.
Failing to protect health information on mobile devices from theft. Mobile phones and tablets can easily be left behind accidentally or stolen on purpose. Agencies should have a plan for locking or remotely wiping a missing or stolen device with patient records.
Inappropriately sharing private health information. Staff who discuss patients or confidential information with co-workers or relatives not involved in the patient's care violate HIPAA.
Releasing information without authorization. Home health agencies should not share patient information without a current authorization form signed by the patient.
Accessing patient files illegally. Staff who are not involved in the patient's care should not have access to protected health information.
You have likely observed or heard about similar situations in your agency. As you can see, it is easy for failures to occur. So you're wondering, how do these accidents turn into full-blown prosecuted HIPAA violations with penalties? Who finds out?
How are HIPAA Violations Discovered?
HIPAA violations are mainly discovered in one of three ways.
Compliance audits
Complaints
Investigations by a regulatory authority
Complaints and investigations on the federal level will involve the US Department of Health and Human Services (HHS) Office for Civil Rights (OCR). The OCR enforces the HIPAA Privacy Rule.
It is best to conduct internal reviews of your processes. Then you can quickly address compliance issues and avoid OCR enforcement.
Avoiding HIPAA Violations in Home Health
If you're a home health agency owner or manager, you probably already know that staying on top of compliance takes time and commitment. Home health agencies and their employees need to understand and follow HIPAA guidelines. Even minor violations can be damaging.
HIPAA violations in home healthcare can lead to:
Fines up to $50,000 per violation
Loss of license
Jail time
For this reason, compliance is one of the most important aspects of your operations, but it's also one of the most time-consuming. HIPAA compliance is about reducing risk rather than preventing breaches altogether.
How Home Health Agencies can Ensure Operational HIPAA Compliance
As a small or midsize home health care agency, you probably don't have the resources to hire a compliance specialist. Having tools like HIPAA compliant home health software helps, but a systematic agency approach that has everyone on board can ensure positive outcomes.  That's why we are providing a Compliance Checklist. This checklist provides a systematic review for your agency to ensure compliance with HIPAA guidelines and regulations.
Besides performing an internal review with our compliance checklist, you must ensure that your policies promote patient privacy. When writing, reviewing, and implementing your policies, here are some points to consider:
Does your agency have a method of sending secure messages to office and field staff?
How well is your software protected?
Do you have a program to remotely erase or lock missing devices?
Choosing the right technologies and providing adequate training for your staff will go a long way in protecting patient privacy and providing high-quality home care.
Summary
Home health agencies are unique in that they provide mobile services by clinicians who work autonomously. Oversight can be difficult. That's why agencies must remain vigilant in their efforts to maintain compliance.
Author's Note: Views, information, and guidance in this resource are intended for information only. We are not rendering legal, financial, accounting, medical, or other professional advice. Alora disclaims any liability to any third party related to this content. We cannot make any guarantee related to the content.
 Sources
"Health Insurance Portability and Accountability Act of 1996 (HIPAA)". cdc.gov. Accessed June 3, 2022.
"HIPAA Enforcement". hhs.gov. Accessed June 3, 2022.
"HIPAA violations & enforcement". ama-assn.org. Accessed June 3, 2022.

HIPAA compliance is one of many regulatory issues that Alora can help your agency stay on top of. We work with both national and state agencies and associations to keep our valued customers positioned to remain successful in the home health care industry. To learn more about how ALORA partners with agencies for peak clinical performance, productivity, financial success, and compliance, click the link below to