04 Nov

Flu Season 2021 and COVID-19 in Home Care

In the wake of almost two years since the world pandemic reared its ugly head, is your home care agency prepared for this flu season? It may be easy to caught-up in the latest COVID-19 virus variant talk, but don't forget to prepare for Influenza season. In this blog we'll review what your agency needs to know and do now…
About the Flu and COVID-19 in Home Care
The seasonal flu (Influenza) and coronavirus (SARS-CoV2) are contagious viruses that cause respiratory symptoms. Employees or patients with either virus may show signs of:
coughing
body aches
fever, or
malaise
Both are problematic for home care agencies because they are easily transmitted. The seasonal flu viruses and coronaviruses are spread through droplets or aerosolized particles released into the air when a person sneezes, talks, coughs, or breathes. Furthermore, surfaces can be contaminated when an infected person touches their face and transfers the germs.
According to the World Health Organization (WHO), individuals can catch both illnesses at the same time.
Individuals at risk for serious complications from seasonal flu and COVID-19 include:
Older adults
Persons at any age with chronic medical conditions
Individuals with suppressed immune systems
Appreciably, these groups make up most of the home care patient population. Knowing that these patients are at the greatest risk, agencies must safely and effectively mitigate these threats to their clients.
Additionally, healthcare workers face occupational exposure to these illnesses and others. Home health providers need to protect their staff.
Protective Measures for Viral Infections
The National Center for Immunization and Respiratory Diseases (NCIRD) advises on important preventative practices that home care workers should follow and teach patients and families. These include:
Opening windows and doors when possible while indoors
Washing hands with soap and water for at least 20 seconds, before touching the face or preparing food, after using the restroom, changing diapers, caring for patients, touching pets, handling a mask, or leaving a public place.
Covering coughs and sneezes
Promptly discarding used tissues
Disinfecting and cleaning high touch surfaces daily, including phones, keyboards, counters, light switches, and sinks
Being alert for symptoms and checking body temperature if symptoms develop (avoid taking temperature within 30 minutes or after taking medications like Tylenol)
Furthermore, the organization recommends vaccination as a means of protection against both the flu and COVID-19. Most healthcare workers know about the latest shots for COVID-19, but here is what agencies need to know about the 2021-2022 flu vaccine.
The 2021-2022 Flu Vaccine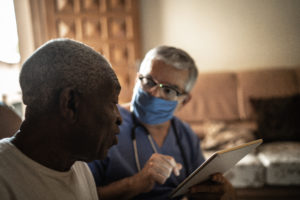 It is difficult to predict when the flu will appear each year. But most experts agree that anyone over the age of six months should be vaccinated for seasonal influenza by October.
This year, the Centers for Disease Control and Prevention (CDC) warns that the lack of flu virus activity since March 2020 could be a problem. The US population may see reduced immunity, and therefore an early and possibly severe flu season.
So far, according to current statistics, only 12% of adults have received this year's flu vaccine. Some states require agencies to offer the flu vaccine or report worker status. Check with a local state health department to determine which requirements affect your agency.
Summary
Flu season is upon us, and it's time for agencies to make sure their employees and patients are aware of the threat. If you have not already reviewed policies and procedures related to infection control and prevention for your clients and employees, now is the time to make sure your home care agency is prepared for this flu season. Staff communication and messaging are key for the adoption of the necessary protocols. Helpful implementations could include:
Use tools and platforms such as Home Health Software to standardize procedures and centralize them in an accessible online portal where all employees can access and easily review
Take advantage of mobile communications, email, or even traditional posted notifications directing caregivers to be mindful of seasonal checklists and patient protocols
Conduct educational staff meetings where a review of the most important workflow practices of the season is demonstrated, encouraging caregiver participation, Q&A, and feedback

Helpful links:
WHO article on the FLU & Covid-19)
CDC Center for Immunization and Respiratory Diseases preventative practices advisements
CDC article on 20201 possibly being a severe flu season

Alora makes internal, agency-wide communication with your full staff of caregivers, managers and admins easy, providing all critical information for compliance and procedural adherence within one centralized, mobile-ready system. Setting reminders, notifications, sending emails and internal messages, is a simple process within Alora's easy to use interface. A more connected agency is a stronger agency!