30 Aug

OHIO EVV Certification Process
Feedback Prompts Changes to Ohio's Alternative EVV Certification Process
In the latest news out of the state of Ohio, in a response to feedback from users/agencies within the state, beginning on Sept. 15, the Alternate (Alt) EVV Certification process for Ohio electronic visit verification is changing from requiring each vendor and provider to pass certification, to only requiring new vendors to pass certification.
Given this change, once a vendor successfully completes Alt EVV testing with Sandata and their demonstrations with the Ohio Department of Medicaid (ODM), the provider will have the option to skip the Sandata testing process and receive production credentials to start sending in visits to the Sandata Aggregator.   
Beginning Sept. 15, the Alt EVV Certification process for agency providers whose vendors are already certified in Ohio will adopt a new 4 step process.

The aforementioned change is a direct result of feedback received from the Alt EVV Stakeholder Small Group. This modification removes several steps currently required by every provider and vendor combination to receive certification.
This is a welcome development for many agencies, in the sense that the actual feedback from agencies was taken into consideration as hinted at by the ODM, and as a result, efforts were employed that are intended to result in Ohio Medicaid reducing:
Redundancies related to provider/vendor testing.
Undo administrative burden to providers and vendors.
Confusion in current complex processes.
Provider frustration with the process and technical requirements.
Time taken away from providing direct care to individuals.
Details about Ohio Medicaid EVV Changes
Here are some of the key takeaways for the new modified process details:
Each agency provider who intends to use an Alt EVV vendor will continue to initiate the Alt EVV Certification process with Sandata.
Each agency provider who initiates the Alt EVV Certification process will continue to take required training on the Sandata Aggregator and provide a completion training certificate to Sandata.
Providers will no longer have to complete the required Demo Request Form. Only vendors will complete the demonstration requirement with ODM – and only if they have not already done so. Providers are encouraged to continue to participate in demonstrations voluntarily if they choose.
Providers are to copy their vendor contacts into their Alt EVV communication with Sandata, so that all parties are aware of progress throughout the certification process.
Provider/vendor-specific testing will still be supported by Sandata if providers chose to do so, even for vendors already certified by Ohio.
Providers using an Alternative EVV vendor who have not completed Sandata testing, or their ODM demonstration requirement, should follow the steps below: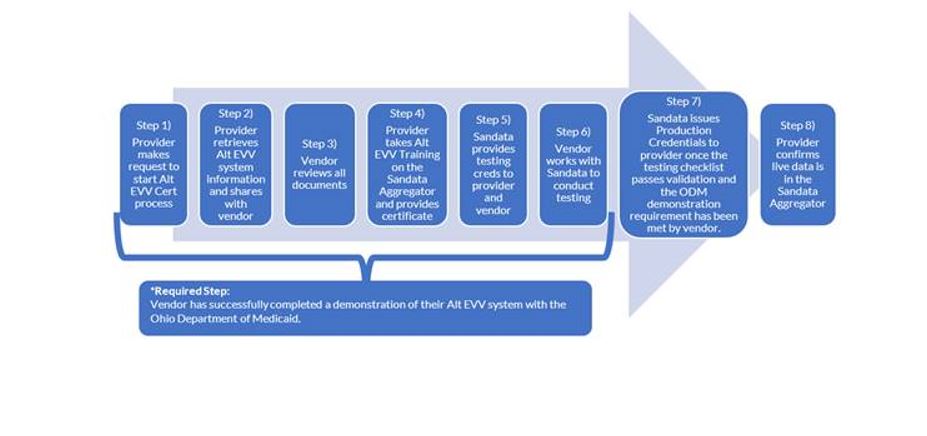 You can get more details on these changes as well as explore a series of webinars the ODM intends to hold in the near future, on the official ODM website, Providers or vendors may still reach out to the OHAltEVV@sandata.com with any questions regarding Alt EVV, or to work through the certification process.
HOME HEALTH SOFTWARE WITH BUILT-IN OHIO EVV
Alora was among the first home health software vendors approved and certified by the ODM for EVV in the state. Alora's integrated EVV system covers all mandated payers in Ohio, including the Ohio Department of Medicaid (ODM), Ohio Department of Aging (ODA), Ohio Department of Developmental Disabilities (DODD), Aetna, Buckeye, CareSource, Molina, Paramount, and United Healthcare.
Click here to schedule a demo or receive more information
The Alora Homecare Software Blog
Read the Alora blog to learn more about the Home Care Software industry, including recent news, articles, and commentaries, as well as other issues that pertain to Homecare in the U.S and beyond. For more information on Ohio EVV or the contents of this blog, or for questions or feedback, please send us an email to HomeHealthSoftware@AloraHealth.com.
Alora is an ODM Certified Ohio Electronic Visit Verification Provider. Contact us to learn more.